Wizard of Oz Slot Machine
Wizard of Oz Slot Game
The Wizard of Oz Slot Machine is brought to you by WMS Gaming in association with Jackpot Party Casino. This 5 reel 30 line slot game is obviously based on the fantastically popular Wizard of Oz Film and comes with wilds, scatters, bonus rounds and a progressive jackpot.
So put on your ruby red slippers and get ready to follow the yellow brick road on your greatest adventure to meet the Wizard of Oz. Avoid the Wicked Witch of the West and the flying monkeys as we help Dorothy, Tin Man & Cowardly Lion and all the other beloved characters to try and make it to the Emerald City with the help of Glinda the good witch.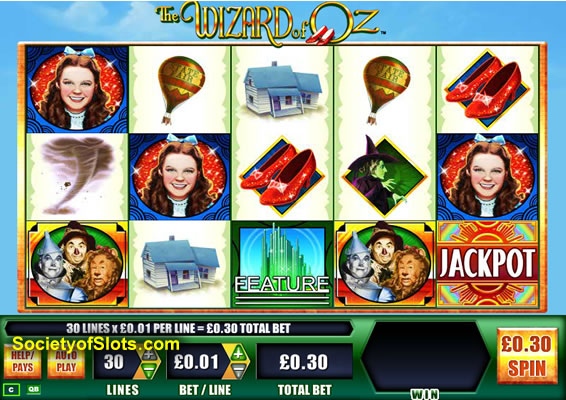 Betting on the Wizard Of Oz starts as low as: £0.01p per line for a minimum max-bet of just £0.30p and a maximum max-bet of £150. Top prize when played at the maximum rate is a cool £50,000. For us mere mortals though top prize is a very respectable £100 from a £0.30p spin. Plus this can increase during the free spins bonus round if you hit more than one win.
All our favourite charcaters are here: including Dorothy, Tin Man & Cowardly Lion, as well as the wicked witch, glinda and the wizard of oz himself. The Wizard Of Oz slot machine has plenty of features and bonus games to keep players of all levels severely entertained.
I will kick off with Glinda the good witch, as she is by far one of the most eagerly anticipated features of this slot game. Sometimes when you spin the reels there is a slight pause before the reels spin, this allows Glinda the good witch to magically float onto the screen in a pink bubble, where she will turn whole reels into wilds!. Glinda can use her magic on up to 4 reels. Which means when the reels finally spin, between 1 to 4 reels will be completely wild helping to make massive winning combinations across the whole board. Glinda is super fabulous and totally addictive! - just like the whole of this game.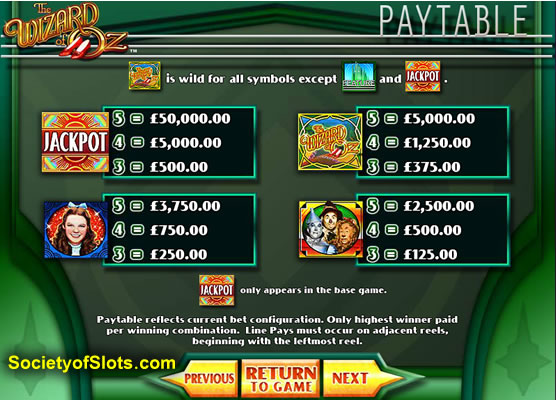 The Emerald City Symbols - These symbols will appear on reels 1, 3 and 5. You need all 3x symbols on all 3 reels to trigger a bonus. Bonuses come in 3 forms. The first is just a cash payout - but trust me, nobody wants that!. The 2nd takes the player off to the flying monkey bonus reels and the 3rd takes us to the Emerald City.
Flying Monkey Bonus - If you picked the flying monkey bonus, then well done!. You will be awarded 8 free spins on special flying monkey reels. However during these spins you will need to hit the Flying Monkey Symbol on the 3rd (centre) reel. This triggers flying monkeys to pour in from every direction and replace the symbols on the reels with Wild Symbols. These flying monkeys can take just one symbol or all of them revealing full wilds and winning a Super Big win or Mega Big Win. These extra wilds and flying monkeys will dramatically increase your winnings and adds lots of excitement to the game.
Emerald City Bonus - Pick the Emerald City and you are off to the green emerald fields. Touch one Emerald at a time to reveal prizes. Prizes consist of cash or symbols. Symbols consist of Dorothy, Scarecrow, Tin Man or Cowardly Lion, which come in to play later in the game. If you reveal the Tin Man, The Lion, Dorothy or the Scarecrow you will be taken to their home where you pick 1 of 2 doors to try to find them. The point bieng the more friends you find the more money you win at the end of the feature game.
You will return back to the emerarld picking game where you continue to pick prizes or friends to take with you, until you hit the Emerald City logo. This then takes you to the Emerald City to meet the Wizard of Oz. If you managed to collect any friends along the way you get to enter the Emerald City and play for big cash prizes. If you do not have any friends you will get the chance to pick between 1 of 5 doors to try and find Dorothy to take in with you.
If you fail to find Dorothy at the door you get a cash prize and are returned to your regular slots game. If you find Dorothy you get to see the Wizard of Oz and the game continues as if you had found a character at the green emerald prize picking stage.
You will enter the Emerald City and meet the Wizard of Oz. Depending on which friends you brought along. You will get to play bonus games for prizes, multipliers or spin prizes, as each character gives you more prizes. Once you have been award prizes for each character the game will be over, your prizes will be revealed and you will go back to your regular play.
This is my personal all time favourite slot machine. With Glinda the good witch, the flying monkey bonus and the Emerard City feature. The Wizard of Oz Slot Machine is in a whole new class of its own when it comes to playing slot machines online. My wizard of oz review really does not do it justice, you have to play it to really appreciate just how much fun this game really is.

Play Wizard Of Oz For Real
Play Wizard of Oz video slot for fun or real money exclusively with Jackpot Party® Casino.
More Free Slots
Check out the latest online slots from the very best software providers. This short list of slot machines below constitutes the latest free slots games that have been added to our website. This list gets updated whenever a new slot machine is released - enjoy!.